Gainesville Roofing Contractors Specializing In Roof Installations
Gainesville roofers serving you since 2009
Your satisfaction is our priority – 100% guaranteed
We bill directly to insurance
"I cannot thank you enough for the work that was performed on my roof and the professionalism that your team has presented. From the initial visit I felt comfortable with using your company from start to finish. You were not only courteous to my husband and I you were very lenient with our time schedule, even though two of the visits had to be made on a Sunday. To be able to work with us on the weekend was a huge help…" Read More
Gainesville Roofing Installation and Repair
Whether your roof was damaged by wind, hail or old age, our Gainesville roof installers are able to offer you the best course of action based on your needs. We will be happy to repair your roof to buy you more time, or if a roof replacement is advised, we can handle that too. Trust our professional Gainesville roofers over other roofing companies. We are proud to be one of the highest rated contractors around.
When choosing a new roof for your home, you want a roofing contractor who has the experience to help you make some major decisions, and will listen to your goals and desires. Our Gainesville roofing professionals can walk you through the entire process and make you feel like one of our family. We install many different types of roofing products including metal, slate and tile roofing. We also offer gutter installation and gutter guards. Our highly trained staff will utilize time-proven materials and installation techniques to maintain your roof's integrity for many years to come.
We serve the entire Gainesville area for both your residential and commercial roofing needs. Whether it's roof installations or roof repairs, metal, tile and slate roofing, call our professional contractors today for an assessment.
Trust is key when hiring a Residential Roofing Contractor
At 1st National Roofing, we strive to be a residential roofing contractor who has built the trust of our entire community. Our reputation is our most important asset, and we are proud to be one of the highest rated residential roofing contractors around. Our roofing inspectors are HAAG Certified, which means we are a true authority in our field. With decades of experience, our highly trained staff will treat your home as if it were their own, and we understand that the mess and intrusion of re-roofing can be lessened using common sense tactics.
Shingles are the most common residential roofing system. Over the years shingle roof types, colors, and options have grown tremendously. We will be happy to make suggestions about colors, styles, and various other options that may be available. We offer many options that will add to the beauty of your home, and low-maintenance and stain resistant shingles are available. To see a complete line of shingle roof offerings, give 1st National Roofing a call today.
Gainesville Commercial Roofers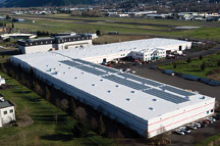 At 1st National Roofing, we install many different types of commercial roofing products to ensure that we have a solution for your roof's needs. Our highly trained staff will utilize time-proven materials and installation techniques to maintain your roof's integrity for many years to come. We understand that your customers must be able to reach your front door, therefore, we will devise a plan that will keep your flow of traffic unimpeded whenever possible. 1st National Roofing will keep you highly informed about any move we make, and will value your input as to what makes your business run more smoothly.
More Info About Gainesville GA
As of 2010, Gainesville had 33,804 people, 11,273 households, and 7,165 families residing in the city. Of the 11,273 residential homes, 30.3% had children under the age of 18 living with them, 39.3% were married couples living together, and 36.4% were non-families. 28.9% The average residential home size was 3.55.
The median income for a household in the city was $38,119, and the median income for a family was $43,734. About 24.9% of families and 29.1% of the population were below the poverty line, including 40.7% of those under age 18 and 17.6% of those age 65 or over.
Providing Gainesville GA roofing services in 30501, 30504, 30506, 30507, 30566.
We also provide services to Powder Springs GA and Auburn GA.